5 Reasons How Capsul's Custom Handwriting Necklace Helped Me Rediscover Self-Love
If you're a busy bee like me, let's talk. In the hustle and bustle of daily life, it's easy to forget the most important person in your life—you.
I get it; life as a working woman, juggling office deadlines and kid duty, leaves little room for self-love. But self-love is essential and that's exactly why I treated myself to something special, something just for me.
It was a journey filled with disappointment because I wasn't satisfied with just initials all over the internet; I wanted something more,something personal.
And that's where Capsul's Custom Handwriting Necklace came into my life.
Here's why:
1. Made-To-Order Personalization
(Because You're One-of-a-Kind)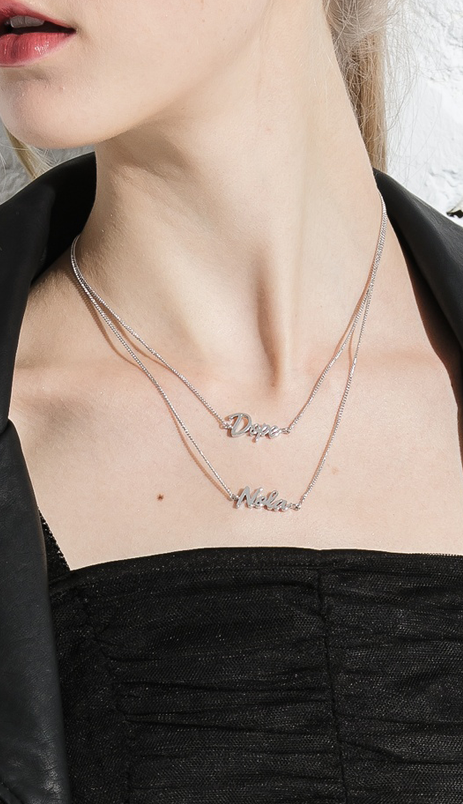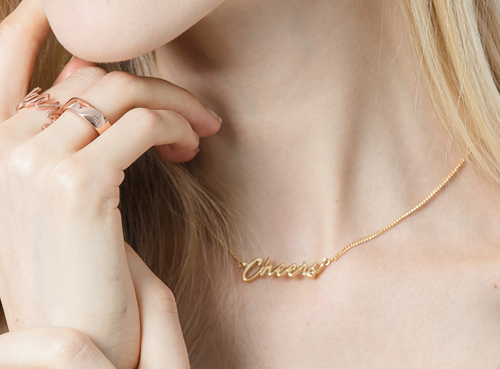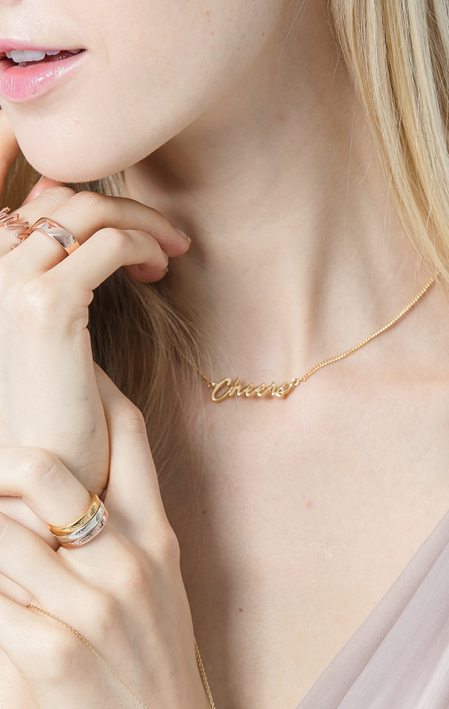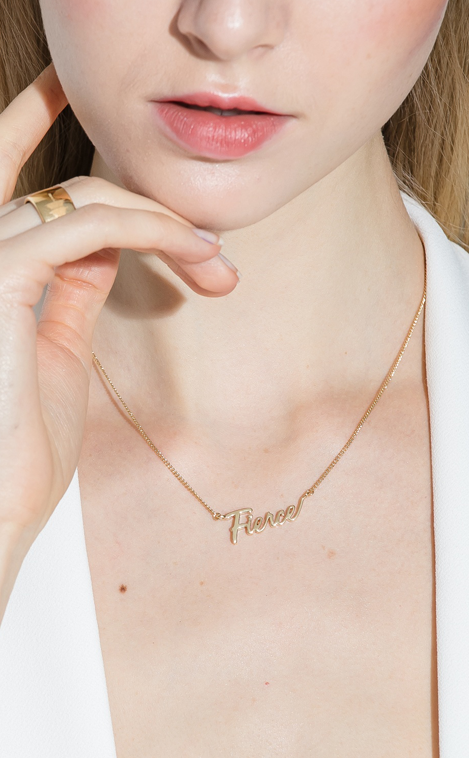 You see, Capsul gets it. They personalize each and every order with love and care.
"Izzy" is what my Grandma calls me and I love that nickname. And, Capsul actually helped me with a necklace written "Izzy" on it in my Grandma's handwriting (I know, sounds surreal).
When that little beauty arrived, I was over the moon!
My friend, on the other hand, went for the word "Hope," in her own handwriting, something that truly resonated with her.
2. Material Options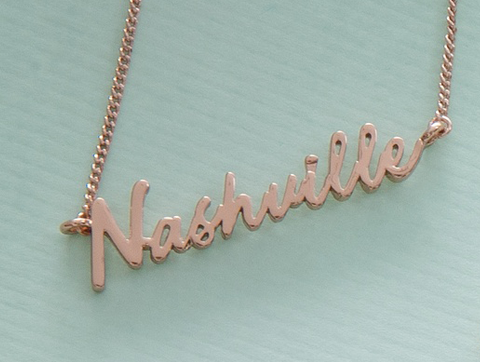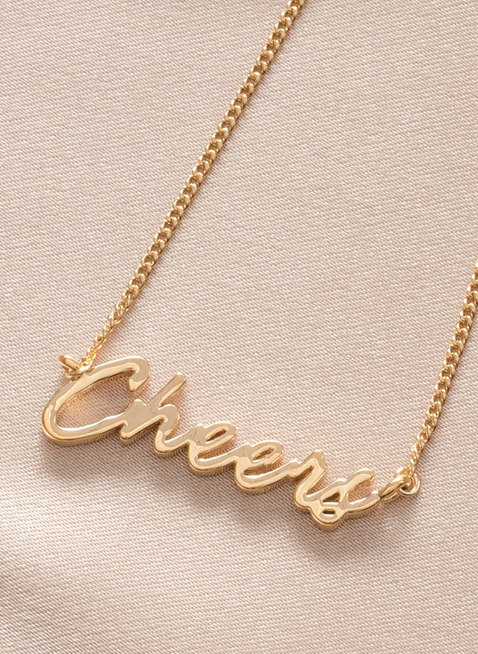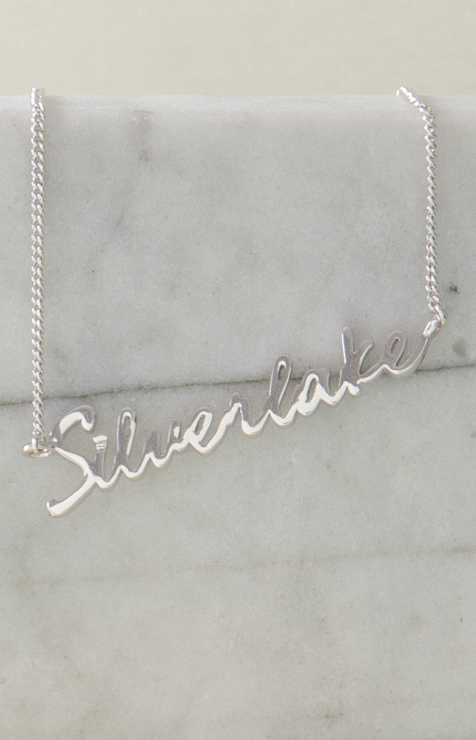 Capsul offers choices!
Gold, silver, and steel—take your pick, and make it your own.
If you want to rock it daily, silver's your go-to. If you're after a keepsake, gold's the golden ticket.
Me? I went silver all the way because I wanted something that would accompany me on my daily adventures.
3. Easy 3-Step Personalization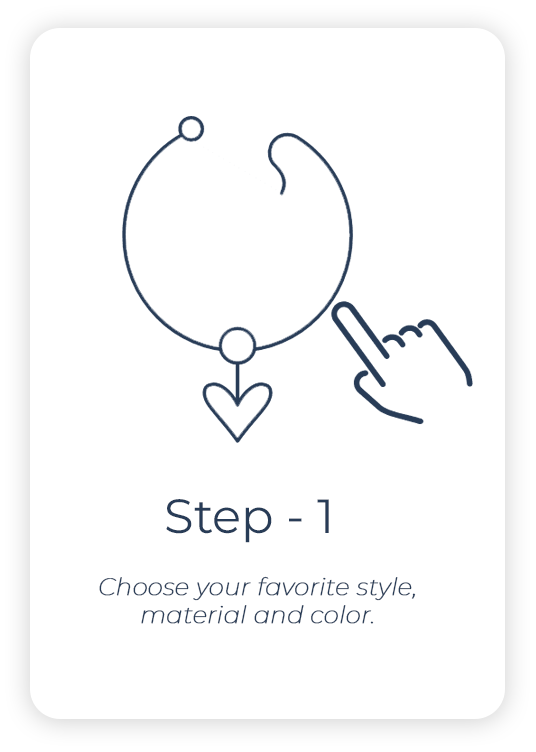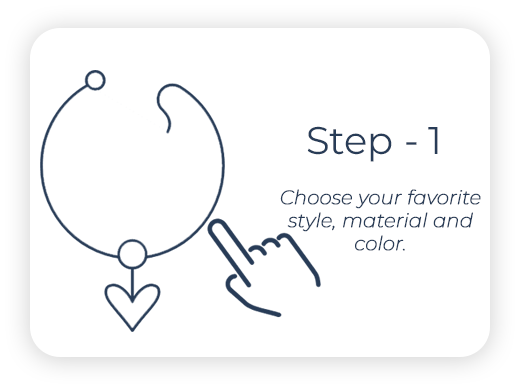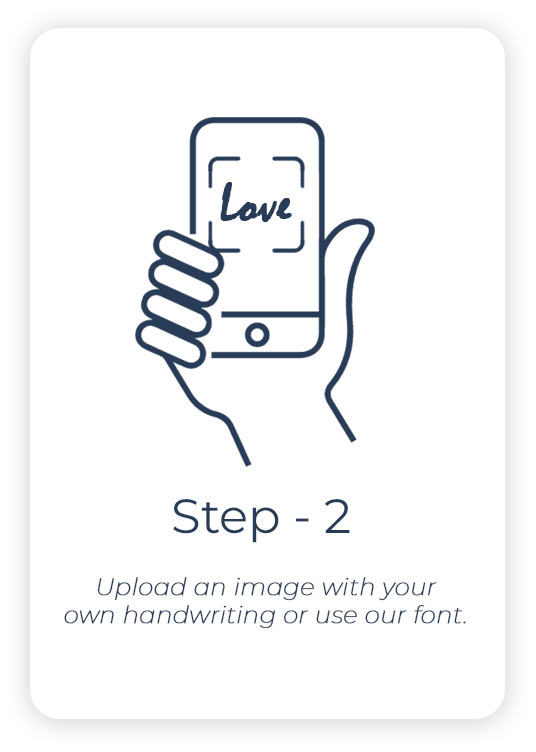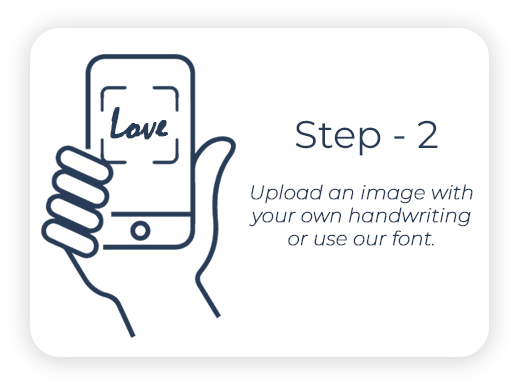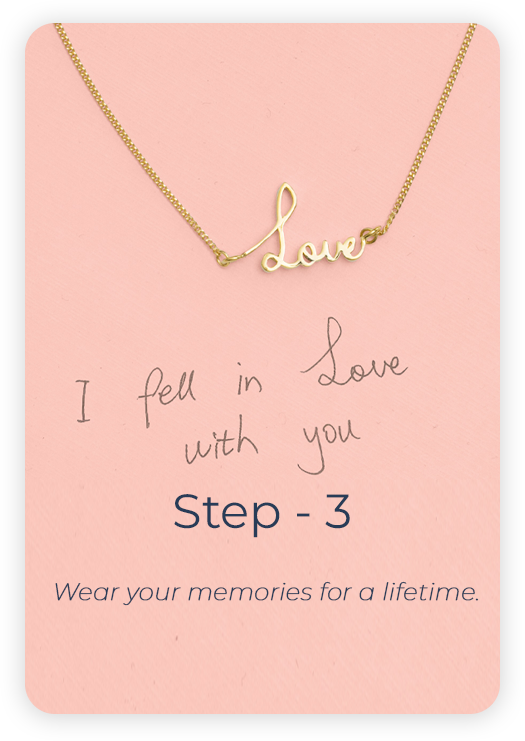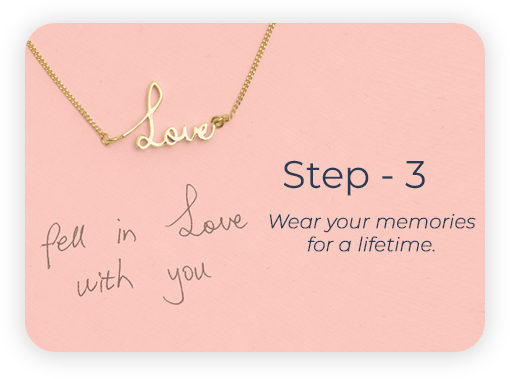 Here's the kicker, it's a breeze to order.
Three simple steps:
Select your material,
upload your handwriting,
and voilà!
Your order is on its way. No fuss, no hassle.
It literally takes you less than 2 minutes to just upload your handwriting and place your order.
I placed my order and got my necklace right on time, no sweat.
4. Trusted by 35,000+ Customers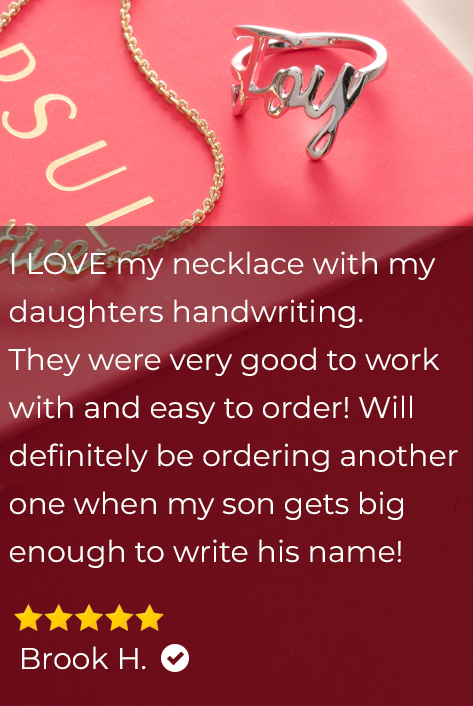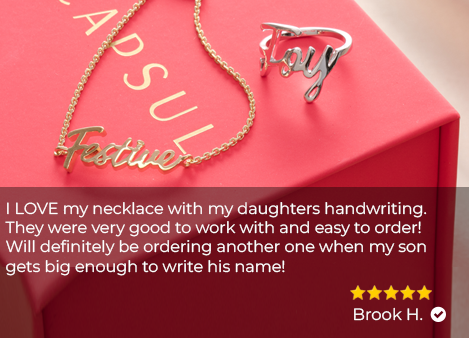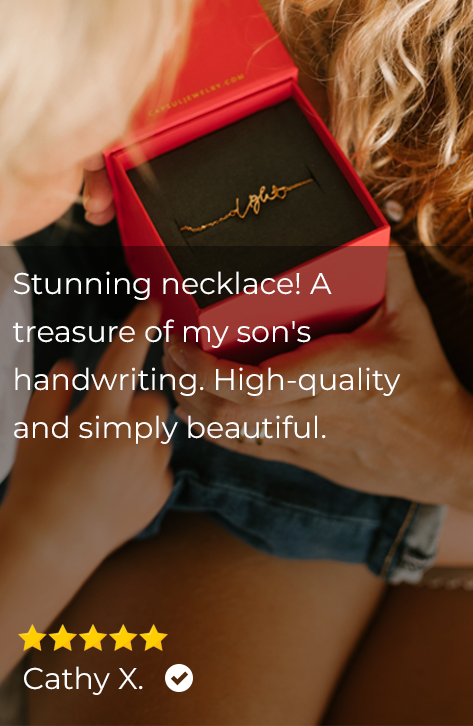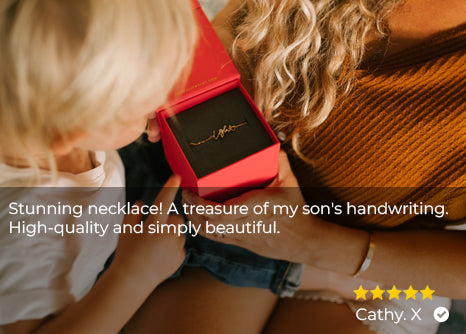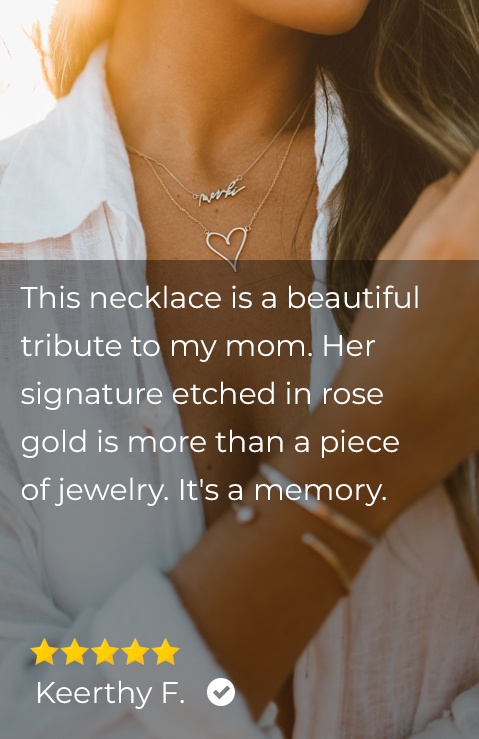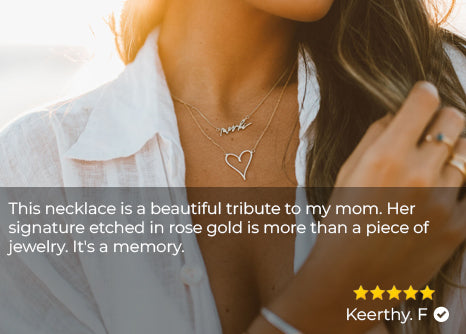 What really sealed the deal for me was seeing that Capsul had over 35,000 satisfied customers.
I mean, who even knew that a handwriting necklace was a thing? Knowing that so many others found joy in their personalized pieces made me take the plunge.
5. 2-Year Guarantee
(Peace of Mind)
And here's the cherry on top—Capsul offers a two-year guarantee. Knowing that my necklace is backed by such confidence adds a sense of security.
Do Not Settle For Ordinary
Capsul
Vs.
Other
brands
PERSONALIZED USING YOUR HANDWRITING
TAKES 60 SECS TO PERSONALIZE
EASY MATERIAL CUSTOMIZATION
NICKEL AND LEAD-FREE PLATING
HANDCRAFTED AND MADE-TO-ORDER
HAPPINESS GUARANTEE
They Can't Stop Raving about It!
Rediscover Self-Love Today
It's your turn now.
Capsul's Custom Handwriting Necklace helped me rediscover self-love, and I promise it can do the same for you.
Don't wait another moment to treat yourself to something special. Get your personalized jewelry now, and let it bring more self-love, more happiness into your life.
Because, in the end, you're worth it.
Literally less than 2 minutes. All you have to do is write the word on a piece of paper, click the picture, upload it, place the order, and done!
You may edit or cancel any order up to 24 hours after it is placed. To initiate a change or cancel, please visit our website or contact our team athello@capsuljewelry.com. You will need to provide us with the details of your order and a clear description of any changes or the reason for the cancellation. Any refunds will returned with the same payment method used for the initial purchase. You will receive a confirmation once the order has been updated.
Capsul currently offers Free Shipping on all U.S. orders $50+ via USPS. Expedited shipping options are available at checkout and calculated dynamically based on destination. We recommend selecting UPS next day air or UPS second day air for urgent orders. International shipping charges are calculated at checkout.
If you have special shipping needs, please contact us via our website or at hello@capsuljewelry.com. In the event your shipment is delayed, or any issues arise in production that could delay your order, we will contact you with any details or questions.
It is important to provide complete and accurate shipping information to correctly deliver your jewelry. In the event of an incomplete or incorrect shipping address, please contact us as soon as possible. Please note it is the customer's responsibility to provide an accurate and reliable shipping address. If the carrier confirms that an order was delivered to the given address, we are unable to re-ship your item(s) if it has been lost as a result of a incomplete / incorrect address submission.
Capsul produces the highest quality jewelry and stands by each and every item we sell. Ready to ship jewelry (non-personalized including block jewelry) may be returned within 30 days of purchase for a refund or exchange. Orders for personalized jewelry are final sale only and can only be canceled or altered within 24 hours of purchase due to the customization of the item. However, if you are not happy with the way your piece turned out, we will repair or remake it to your satisfaction. Note that we can't be responsible for any re-makes due to the wrong size, color, material, or customization entered. We also offer a one-year warranty for any repairs or re-plating due to wear-and-tear.
To return an item, please contact our team at hello@capsuljewelry.com. You will need to provide us with the details of your order and a description of any issues and the reason for the return. All pieces must be returned complete in original packaging including any and all parts or accessories. All returns must be received within 10 days of issuance of the return merchandise authorization.
After your return has been received, please allow up to 6-8 weeks for us to review your item(s), repair, or remake if necessary and deliver the item back to you. Please note that any replacement cannot be made or shipped until we have received the original item(s) complete in the original packaging.
We are so confident you'll love your Capsul Jewelry that we offer a 100% Happiness Guarantee! If you are not happy with the way your piece turned out, we will repair or remake it to your satisfaction. However, we can't be responsible for any re-makes due to the wrong size, color, material, or customization entered. We also offer a one-year warranty for any repairs or re-plating due to wear-and-tear.
Our Custom orders take 15-20 business days to to be produced and will ship after completion. Once your jewelry is produced, packaged and processed, a shipping confirmation is sent via email that includes your order tracking number. Please note that if "buy now, customize later" is selected when purchasing, the 15-20 business day production period will begin once customization details are finalized. Tracking information is also available on our website to registered users under "My Account." Please note that tracking information may not be available for all international orders due to variances in carriers and customs processes across countries.
Our jewelry collections are currently available in brass, sterling silver, and 14k gold as the base metal. Our brass pieces are plated in 14k gold, 14k rose gold, or rhodium (silver). Sterling pieces can be left un-plated (silver) or plated in 14k gold or 14k rose gold. Solid 14k gold options include yellow, white, and rose gold. Refer to our care and materials guide for tips that will help ensure that your pieces remain in top condition.
Capsul reviews every order for quality prior to shipment. Items can, however, be damaged in handling or shipping prior to your receipt. In the event this occurs, please reach out via our website or athello@capsuljewelry.comwithin 7 days.
Capsul welcomes customers from around the world. We invite you to shop our website and place your order in the same manner as domestic patrons. Please note that all prices on our website are in US Dollars (USD). For our international customers (outside the U.S.), shipping is calculated dynamically at checkout based on your location. Also note that orders shipped outside of the U.S. may be subject to customs and transit processes outside our control that may impact their deliveries.
If you place an international order then refuse delivery, be aware that your package will be abandoned at the border. Because the item(s) cannot be returned to us, these orders will not be eligible for a refund. Please ensure that you have selected the correct options and sizing and carefully review your choices before submission.
Please also note that order placement confers your acceptance and responsibility for any duties / taxes and brokerage fees associated to your shipment. The recipient of the package is responsible for these fees. These fees are not included in the pricing or shipping/handling charges on our website. It is strongly recommended to check with your local agency for an estimate of these fees prior to placing any orders.
For best results, please submit your signature or phrase written with marker or pen on a single line (16 characters max). Some signatures may be altered for production purposes. Need handwriting ideas and more instruction on how to submit your file? Check out our how to create handwriting jewelry page.
For any additional questions, please visit our Contact Us page (and be sure to include your order number in your message), or email us at hello@capsuljewelry.com
You can upload a sound file while customizing your piece on our website and a sound wave will be generated. You can also create your unique sound wave on a recording device such as a smartphone. On an iPhone, we recommend the built-in Voice Memos app to record your sound wave. On Android, we recommend Google Keep, Easy Voice Recorder, Evernote or a similar app to capture and save your sound recording. Choose a filename that will be descriptive and easy to remember. For best results, keep your recording under 5 seconds and try to minimize background noise that could alter the shape of the sound wave. Take a screenshot of the sound wave to submit along with your order. Some sound waves may be altered for production purposes. For ideas and more in depth sound wave instructions, check out our how to create a sound wave page
If you have questions regarding a request, please contact us at hello@capsuljewelry.com
While we allow almost anything you wish that fits within each piece's character limit, please note we reserve the right to refuse and not produce any jewelry submissions containing inappropriate content, and all products are created at our discretion. If you have questions regarding a requested phrase, please contact us athello@capsuljewelry.com
All custom jewelry will be produced as submitted and in accordance to the product's personalization standards. Your jewelry will go into production within 24 hours of order confirmation. Custom orders take 15-20 business days for production. Once your order is ready to ship, you will receive email confirmation with tracking details.
Please note that if "buy now, customize later" is selected when purchasing, production will begin once customization details are finalized.
Due to changing local COVID-19 cases, protocols, and safety procedures, Custom orders are requiring more time and production may be paused for safety of those creating, packaging, and shipping your order.
If you have any questions about this process or your order, please email us at hello@capsuljewelry.com with your order number and query
2000+
Reviews